Welcome to Rio2012. Here are spirals from Brazil, China, Spain and England, and from nature and a table setting, that indicate the energy of our congress
Access Rio2012 dedicated website here
Access Rio2012 story on spirals here
Geoffrey Cannon writes: Let it be known to us all, that the person who above all envisioned our congress in Rio de Janeiro, and who has achieved it, is Inês Rugani. Around the time of the International Congress on Nutrition in Bangkok in late 2009, the call went out from the Association, for bids from potential partners for our first world public health nutrition congress.
Already two international public health nutrition congresses had been held and planned, in Barcelona in 2006 and in Porto in 2010, created and organised by colleagues in Spain and in Portugal. Both attracted well over 1,000 participants from all continents, thanks to the energy and enterprise of the Spanish Society of Community Nutrition (SENC) and its then president Lluis Serra Majem. The Association was itself formed as a result of a special meeting at the Barcelona congress.
In due course our Council decided that the Association should initiate four-yearly congresses, starting in 2012. This decision was not to create 'just more congresses'. There were – and are and will be – principles involved. Rio2012 and future Association congresses are and will be global. They do and will position nutrition within the public health movement. They include the social, economic, political and environmental dimensions of nutrition at population level. They celebrate food and its enjoyment. They recognise and react to the fact that since the 1980s, world political and economic governance has gone wrong, and that this mistake is now recognised and has to be put right. The congresses will be fully interactive and not include experts merely talking at audiences. Also – and in this respect our congresses are different from all others in our field – they are and will always be free from funding or 'support' of any kind from those sections of industry whose policies and practices are hostile to or impede public health and public goods.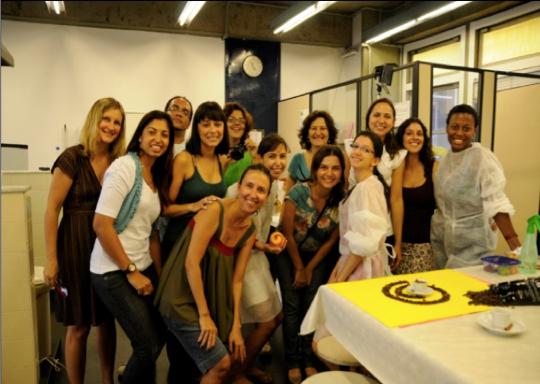 The bid from Brazil and specifically from Abrasco responded to all these and other points. This was because the principles being worked out by the Association, had already been agreed and practiced by Abrasco. We had found our partners who, organised, led and inspired by Inês Rugani, have guided us ever since. Here she is above in the midst of her team who created all the Brazilian spirals that are featured in the Rio2012 congress. In the picture here, taken during the team creation of the 'Rio spirals', she is the one with the biggest smile of all, towards the right in the back row. And so, what is the story with the spirals?
We told it last June (see the link at the top of this page) saying that Rio2012 respects facts, but what will come first are ideas. An observation that guides the planning of our congress is that in nature, nothing is in the form of a straight line. Further, human history shows that progress is not linear but cyclical. Despite developments in technology, we constantly come back to where we were before. When we make progress, we expand our knowledge and wisdom. Growth in nature and often in art is shown in spiral form. In nature, the spiral shape obeys laws of proportion, which now guide systems thinking, essential in all trans-disciplinary work. Systems analysis is essential in addressing 'big picture' issues. And so on. The spiral symbol in all its variations shown in our pages and in our conference reminds us of such things.