World Nutrition Rio 2012
The marvellous city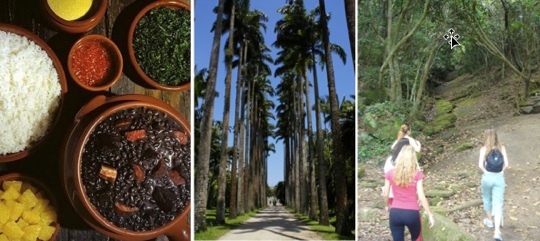 Traditional feijoada (left), the Imperial Palms in the Botanic Garden (centre), and (right) the starting point of the track that goes to the top of the Urca hill
Local tips for your visit to Rio
This month we feature hot tips for places to see and things to do in Rio during the day. Even hotter tips on Rio at night are coming up next month.
Fabio Gomes and Isabela Sattamini report: One of the first good things visitors should know about cariocas (the name for people born in Rio) is that we love to show visitors round the city. When people say they are coming to Rio, most cariocas feel like they have immediately become their friends, and start to come up with special tips. So here, we imagine we are joining you in each visit and experience.
How to divide our suggestions: by places, by categories (gastronomy, cultural attractions), by regions? We decided to split the suggestions into those for day and those for night. This month it's day, next month it's night.
Wake up! Rio is waiting for you!
Start by getting up early in the morning, when you can get the best of Rio's beaches if you prefer less crowded places. We have several beaches, some close to downtown, hence more crowded depending on the time, others more distant, hence even deserted for some of the time. Copacabana and Ipanema are the most famous, they are lively, beautiful, and show the diversity of Brazilian people, especially during the peak beach times between 9 in the morning and 3 in the afternoon. You can rent a chair or a sunshade for the equivalent of US 50 cents. Please don't forget your sunblock, even outside the beaches. On the sand or on the sidewalks you can always have delicious coconut milk from a whole nut for around US 1.50.
At the Copacabana Fort, at the right-hand edge of Copacabana beach as you face the sea, you can find the Confeitaria Colombo. So you can take a walk along Copacabana, followed by a jump in the sea and some time under the sun, closing with coffee or tea at Colombo. If you want a more tropical alternative for your breakfast, look for the nearest juice store, there are many around the city. You'll easily locate them, as the fresh whole fruits are displayed in their shelves. Try the juices made with the fresh fruits, but they also have frozen pulp of fruits from the Amazonian, Centre West or North Eastern regions of Brazil. We love cupuaçu, mangaba, or açaí . Whole fruits in season in April include guava, papaya, passion fruit, tangerine, watermelon. That's one of the things Brazilians most miss when they are living in the US or Europe: the fresh fruits and juices.
Try mixed juices too. We recommend lime with watermelon, guava with tangerine. The juices will cost around $US 2-4, depending on how much you want. The possibilities are endless, and they increase if you mix three or more fruits, and vegetables also, as in the papaya + carrot + tangerine, or lime + kale, or beetroot with carrot. Try 'natural' which means, they won't add sugar or ice. There are juice stores open 24 hours a day, seven days a week. Enjoy!
There's more than Copacabana!
Not all participants will be staying at Copacabana or Ipanema, and some that will, might not be interested in a crowded beach. For those who are interested in a beach like Copacabana, but are not staying there, if you are staying in Flamengo, Gloria, or downtown, you can take the subway or a bus. If you are not interested in the beach, or you've already spent one day there, it is time to try something new.
Rio has the biggest forest within a city. This is Tijuca, open from Tuesday to Sunday, from 9am to 5pm. You can reach it by bus from the Tijuca or Barra da Tijuca neighbourhoods (bus number 225 or 233 or 234), or by taxi from anywhere, or by taking a ride with a carioca friend you meet at the conference. Entrance is free, you can take a basket with fruits, breads, vegetables, water and share a picnic with friends, you can take a walk through the tracks in the forest, where you will be within the green of an Atlantic forest, with great waterfalls. You will simply forget you're inside an eight million population city! There are three restaurants inside the forest; the one closer to the entrance gate faces a wonderful waterfall. The food is simple, good and cheap. The others offer a menu a little bit more sophisticated and expensive, they also have a nice view, but without the waterfall. If you are allergic to mosquito bites take a repellent.
Another option for your active morning is to take a walk around the Rodrigo de Freitas Lagoon. There you can also have refreshing coconut water, or pause for a more substantial late breakfast or brunch in one of the kiosks. There is an Amazonian cuisine restaurant that offers a brunch from 10am to 2pm on Sundays, for more information click here. By the lagoon, in General Garzon Street 10, you can also have a fantastic breakfast at the Escola do Pão Bistrô & Café, which is a bistro (Tuesday to Saturday, from 5 pm to midnight) and a bakery school as well. They offer breakfast on Saturdays, Sundays and holidays, from 9am to 1pm. The Botanic Garden and the Lage Park are close by the lagoon, you can bring your own basket and make your breakfast picnic or take a cup of coffee in the cafés nearby. All these choices are good in the afternoon also.
Arts for all
Santa Teresa is the neighbourhood where nature, art, music, and people meet, a place where residents know each other by their first names, almost like a traditional village in the countryside. This is another place that will make you forget you are in a mega city. There are several nice restaurants there, such as the Espírito Santa (would cost around $US 20 per person, depending on what you order), Aprazível, Térèze (much more expensive at $US 40 euros or more, but where you will get staggering views).
Besides this, there are two very interesting places you should see and a very interesting man you should meet there. One of the places is called Parque das Ruínas (Park of Ruins), which provides one of the most beautiful views of Rio. From there you will be able to see the downtown area and its old buildings, the Guanabara bay, the Sugar Loaf mountain, the Cristo Redentor (Christ in Majesty), and Flamengo beach. On some Saturdays, there is an instrumental music concert inside the ruins at 11:00 am, and it's free, the place has room for around 100 people (more details on that, below in Box 1). Right beside the Parque das Ruínas you will find the Chácara do Céu Museum, which holds the biggest public collection of paintings by Candido Portinari, a great Brazilian painter. To know more about his work, including the giant panels War and Peace commissioned by the UN to feature in its New York Headquarters, click here.
Don't miss Getulio. He is a street artist who transforms rubbish into ingenious art pieces. His workshop is right on the sidewalk right in front of the local headquarters of Rio's cleaning department. When you arrive just say: 'Oi Getulio! Tudo bem?' (Hi Getulio! Everything OK?), shake his hand, and smile! In a few minutes, you will become old friends, and he will start talking about his job in a empassioned way. He is not the kind of guy that wastes your visit trying to convince you to buy something he made. He will start telling stories about exhibitions of his pieces in Zurich, Paris, Tokyo, São Paulo, and you may think 'This guy is kidding me'. Then if he has the time and chance, before you ask, he will pick up a bag full of newspapers from all over the world, Japan, France, Switzerland, featuring exhibitions of his pieces in those cities. He is a genius, besides being a very kind, friendly, outgoing, and simple man.
The marvellous market
Visit the market called CADEG, located very close to the conference venue, 5-10 minutes by cab ($US 7 maximum, share the cab and make it cheaper), 20-25 minutes from the south region of the city. This place supplies the greater part of the city with fruits and vegetables, so you will be able to get a sense of Brazilian food diversity, and try fruits, nuts, herbs and spices you've never seen. Every day, except Sundays, the stalls are open from 4 am.
On Saturdays there is a Portuguese party, with traditional food and music, for which you must arrive early (10 am at the latest) to get a table. That's the busiest day in the market. There are several good restaurants there open seven days a week from 11am to 5pm. We suggest the one called Barsa, all the dishes are wonderful, and the smaller portions serve two or three persons, so they are all made to be shared following the local atmosphere. If you want to try a traditional dish and you haven't tried our famous feijoada that's a good place to order it.
On Sundays, when the stalls are all closed, only the restaurants open, including Barsa, where they offer live instrumental chorinho, which is considered the most authentic Brazilian rhythm. If it is Sunday, you are in Rio, and you want to have a great traditional meal for lunch, listening to great Brazilian music, this is the place! They don't accept reservations, so get there by 11am.
Box 1
Music in the Museum

The Music in the Museum project was begun in 1997, by the Brazilian violinist Turíbio Santos. One of its aims is to offer high level concerts, free, every day of the year. Yes, every day there is at least one concert in a museum, historical building, church, or cultural centre in Rio.
On Saturdays they usually take place in the Parque das Ruínas in Santa Teresa (11:30am) (above, left), and on Sundays at the Modern Art Museum in Flamengo (11:30am). But there several other fantastic venues, such as general consulate of Portugal (above, centre), and also the palace on the Fiscal Island (above, right), where parties of the monarchy took place when the Portuguese empire was based in Brazil.
As our conference ends at the beginning of May, we should let you know that every year in May harpists from all over the world come to Rio for the International Harp Festival. They are all great, and all concerts are free! When tickets are required they are freely distributed by the entrance of the venue one or two hours before the concert. So in May, every day, exceptional harpists will fill the atmosphere of historical buildings and museums with their musical notes. For the detailed programme follow their website: www.musicanomuseu.com.br.
Meeting and greeting
There are plenty of charming historical buildings, museums, and theatres in the centre of Rio that deserve your attention. These include the municipal theatre, the national library, the fine arts museum, and Teles' Arches.
Teles' Arches is a very traditional and inviting place to sit and enjoy typical carioca traditional food, where local people who work nearby the centre meet, after a long working day, to chat and listen to live music, and enjoy the beautiful architecture. Teles' Arches is part of the Praça XV (XV Square), where is also located the Paço Imperial, which includes a museum connected with an excellent book and music store.
We suggest you take the guided visit offered by the Municipal Theatre of Rio de Janeiro (they charge around $US 5). The guide will take you on an historic trip about the theatre, which is intimately linked to the history of the creation of the city. You will leave the theatre amazed by its architecture and design.
Also in the centre of Rio is the famous neighbourhood of Lapa, which is very crowded during the night, and which also has day attractions. For those who plan staying a few more days after the conference, on every first Saturday of the month there is an antiques street fair called Feira do Lavrádio, in the Lavrádio Street, from 9am to 7pm, where is it possible to find old jewellery, dishes, clothes, even things you cannot imagine. This is a great place to take photographs. After getting tired from walking around, there are plenty of traditional restaurants and live music, such as the Brasil Bar .
The end of perfect days
End your best day in Rio with the best view of Rio's sunset. The famous Sugar Loaf is formed from the Urca hill and the Sugar Loaf mountain. The usual way to get there is by cable car to the first stop (Urca) and then the summit (Sugar Loaf). They charge around $US 20. But the cable car is just one option. It is possible to climb the Sugar Loaf, but do this only if you are experienced, with a guide.
But with a bit of effort it's easy to climb Urca. First, get to the beach called Praia Vermelha (Red Beach), you can get there by bus or taxi. When you are at the sidewalk of the beach, walk towards the left hand side (facing the sea). You will see an open gate with a soldier quite close to it (this area is full of military buildings). To make sure you are in the right way, ask the guard or anyone else around where is the Pista (route) Claudio Coutinho. While you walk this route, look for a track that takes you into the forest and up the hill. There is only one track (right hand picture at the top of this story). With one or two pauses, it usually takes 25-30 minutes to get to the top if you are in good shape, and maybe 40-60 minutes, if you are completely physically inactive. We've seen 5 year olds and 80 year olds walking up.
As you get to the end of the track there is a gate that separates the track from the general infra-structure at the top of the hill. This gate is open until 6 pm. Make sure you get to the top before then, to enjoy the sunset and the delicious fruit salad served in the shops up there! You serve yourself any fruits you like from the buffet and pay according to the amount you pick. How do you get down, though? Take the track back in the dark? No no. Here is what you do. After 7pm you stand in line to take the cable car down. The guard will ask for your ticket. You just need to say (or indicate) 'I took the track to come up'. Remember 'Claudio Coutinho'. He will say: 'OK! Get on board!' So climb in the cable car and enjoy the ride and the view.
Next month we will be back with tips for Rio at night.