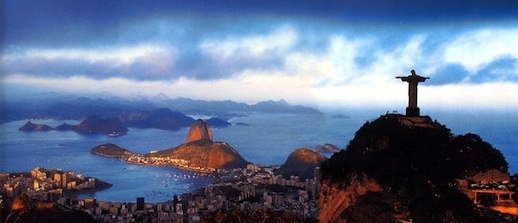 Congress of the World Public Health Nutrition Association with
Abrasco (the Brazilian Association of Collective Health)
to be held in Rio de Janeiro, 27-30 April 2012
Association president Barrie Margetts reports: In this New Year issue it is now countdown time to Rio 2012. Our new Council has discussed Rio 2012, our congress to be held jointly with the Brazilian national public health organisation Abrasco, in its first two meetings. We have also established excellent relations with our Abrasco colleagues. We are now close to finalising a first draft programme. This is out for consultation and will be published here next month.
What follows here is a revised and updated version of the preliminary announcement published last September, as now ratified by our new Council and also by Luis Facchini, my counterpart as president of Abrasco, and his team.
Theme, scope, title, hosts
The scope of the congress is the concept that is also the name of our journal:

World Nutrition

. Its linked themes - knowledge, policy, action - show that the result of science should be plans that work in the public interest.
The title of the congress is completed with 'Rio 2012'. It will be the great international event in Rio of that year, to be followed by the World Cup in 2014 and the Olympics in 2016, also being held in Brazil.
Our partner and host is Abrasco, the Brazilian national organisation for public health professionals. This emphasises the special relationship between public health nutrition and many aspects of public health as a whole.
Principles
Rio 2012 will be organised and structured according to a number of principles, some of which have been advocated by members of the Association and also of Abrasco for many years. We are now putting these principles into practice.
Structure. Rio 2012 will have an overall purpose: a beginning and an end as well as a middle. Its themes will be elaborated into objectives that will guide the programme. A number of sessions will take the form of pre-organised workshops on vital topics, designed to develop these objectives. The congress will end with a series of agreed statements designed to be made into the basis of rational policies and effective programmes.
Nature. Rio 2012 will be a scientific congress but it will not be only academic. Much knowledge derives from conventional scientific investigation, and much does not. This is crucial in less-resourced settings. Sessions will feature public health nutritionists, and also participants for whom food and nutrition policy and practice are crucial, but whose special knowledge is also of other related disciplines, or of long-standing practical experience.
Scope. Rio 2012 will identify public health nutrition as a multidimensional discipline. The basis of modern nutrition science is biological and biochemical. Fully understood, and as stated in The Giessen Declaration, all branches of nutrition need to be based on ethical and also evolutionary, ecological and historical principles. More than ever now, the discipline of nutrition has social, economic, and environmental dimensions.
Relevance. Rio 2012 will fully take into account the circumstances of the period in which we live now, a time of unparalleled challenge and opportunity in which many assumptions require review. One change to take into account, in the choice of topics and speakers, is the increasing influence in world affairs of great unaligned nations that have retained substantial resources. These include the BRIC group - Russia, India, and China - and Brazil.
Interaction. Rio 2012 will be an occasion for debate, discussion and agreements, more than a meeting at which experts speak at audiences. This will be reflected in the structure and nature of the programme, and also in its seating arrangements. There will be a place for podiums and lecterns, but formal presentations will be followed by a substantial time reserved for genuinely interactive discussion, and to meet speakers.
Resources. Rio 2012 is being mounted with the declared support of the Brazilian federal government, including its public health agency Fiocruz; and with the backing of the city of Rio de Janeiro. The congress will be held at Rio State University, overlooking the great Maracana football stadium. It will be funded by registration fees, and by sponsorships and other material support from public institutions and non-conflicting private sources.
Ambition. Rio 2012 will clarify the nature of public health nutrition, and will confirm its scope, relevance and influence as a major and crucial part of public health. As professionals are now confronted with issues as tremendous as those that faced the pioneers of the 19th century. United, and always guided by principles of social justice and equity, we will play a full part in the worldwide improvement and protection of public health.
We have received many suggestions for themes and sessions. More suggestions are welcome. Please use the response facility below.
2011 Jan. HP1. Rio 2012
Respond below please